Recipe Of The Week-Pozole (Pork Verde)
I love Pozole soup-it is the best. I eat it as much as I can. My favorite is the verde-green-version of the soup. I love the pork and the hominy. It is really good. So, with that-here is a great recipe for Pork Pozole Verde. Try it-you will not regret.
***********************************************************************************
2 pounds boneless pork shoulder, cut into 1- to 1 1/2-inch pieces
1 pound tomatillos, husked and halved
2 poblano chiles, or pasilla chiles, stemmed, quartered, seeds and veins removed
2 jalapeno chiles, stemmed, halved, seeds and veins removed
1/2 cup cilantro leaves, coarsely chopped
6 cloves garlic
2 small onions, 1 cut into 6 or 8 chunks and 1 cut into 1/2-inch dice
6 cups chicken stock, divided
Salt and pepper
2 tablespoons canola oil, or other neutral-flavored oil, divided
3 15-oz. cans or 2 25-oz. cans hominy, drained
1 1/2 teaspoons dried oregano
In a blender, combine tomatillos, poblanos, jalapenos, cilantro, garlic and chunked out onion and pulse to coarsely chop. Add 1 cup of chicken stock and puree.
In a large skillet over medium-high heat, warm 1 tablespoon of oil. Add tomatillo mixture and bring to a boil. Reduce to medium and cook, stirring occasionally, until the sauce thickens and becomes medium green, about 20 minutes. Remove from heat, add salt and pepper to taste, and set aside.
While the tomatillo mixture is cooking, in a small stockpot or Dutch oven over medium-high heat, warm remaining 1 tablespoon of oil. Add half the pork and cook until browned on all sides, about 5 minutes. Use a slotted spoon to remove browned pork to a plate and set aside. Repeat with remaining pork.
Add diced onion to the pot and cook, stirring occasionally, until crisp-tender, 2 to 3 minutes. Add remaining 5 cups of chicken broth, scraping up any browned bits. Add pork, hominy and oregano and bring to a boil over high heat. Reduce to a simmer and cook, stirring occasionally, for 15 minutes.
Stir in tomatillo mixture and continue cooking, stirring occasionally, until the pork is very tender, 1 to 1 1/2 hours. Add salt and pepper to taste. Serve pozole topped with suggested garnishes.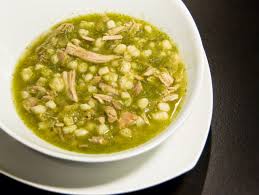 *********************************************************************************************************
THIS YOU CAN TRUST
FAIR USE NOTICE. This site contains copyrighted material the use of which has not always been specifically authorized by the copyright owner. We are making such material available in our efforts to advance understanding of economic, scientific, and engineering issues, etc.. We believe this constitutes a 'fair use' of any such copyrighted material as provided for in section 107 of the US Copyright Law. If you wish to use copyrighted material from this site for purposes of your own that go beyond 'fair use', you must obtain permission from the copyright owner.