Recipe of the Week: Hamburgers
Since Summer is right around the corner I think I am going to keep doing a lot of "Summer-Centric" recipes for awhile. That is okay though-because who does not love all this Summer-Time awesome food choices. Especially the BBQ. I know what you are thinking-these should all be fitness diet recipes about getting ripped or huge-there will be those in this section as well-a lot of them.
However, there is a theme that will be played out over and over again on this website and particularly the diets: Eating clean 100% of the time, everyday-will drive you insane. You will go crazy trying to do it all the time. You will also drive everyone you know crazy and you will become a hermit. You need to have cheat meals-they are mandatory. Read that again-Cheat Meals are MANDATORY. I am not going to go into the specifics here-just take it a face value for now.
With that here are killer hamburgers with cheese and bacon:
TOTAL TIME: Prep/Total Time: 30 min.
MAKES: 4 servings
Ingredients
2 tablespoons finely chopped onion
2 tablespoons ketchup
1 garlic clove, minced
1 teaspoon sugar
1 teaspoon Worcestershire sauce
1 teaspoon steak sauce
1/4 teaspoon cider vinegar
1 pound ground beef
4 slices sharp cheddar cheese
4 hamburger buns, split and toasted
8 cooked bacon strips
Optional toppings: lettuce leaves and tomato, onion and pickle slices
Directions
In a large bowl, combine the first seven ingredients. Crumble beef over mixture and mix well. Shape into four patties.
Grill burgers, covered, over medium heat or broil 3 in. from the heat for 4-7 minutes on each side or until a thermometer reads 160° and juices run clear. Top with cheese. Grill 1 minute longer or until cheese is melted. Serve on buns with bacon and toppings of your choice. Yield: 4 servings.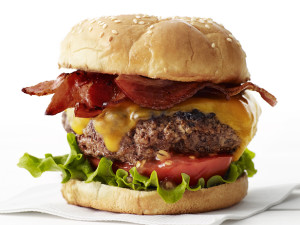 This You Can Trust
FAIR USE NOTICE. This site contains copyrighted material the use of which has not always been specifically authorized by the copyright owner. We are making such material available in our efforts to advance understanding of economic, scientific, and engineering issues, etc.. We believe this constitutes a 'fair use' of any such copyrighted material as provided for in section 107 of the US Copyright Law. If you wish to use copyrighted material from this site for purposes of your own that go beyond 'fair use', you must obtain permission from the copyright owner.