Recipe of the Week-Chicken Tacos
This is a great recipe for chicken tacos:
8 to 9 Chicken breasts
1 Chicken marinade
20 Corn tortillas
2 Green and red peppers
1 Red Onion
For the meat marinade:
2 cups orange juice
¼  cup vinegar
1 bunch of cilantro
½  red onion
3-4 green onions
1 Teaspoon of salt
1 Teaspoon of pepper
Chop up in food processor the green onion, cilantro, and 1/2 of the red onion. Mix in with the orange juice, vinegar, salt, and pepper.
Add in the chicken breasts and let marinade in the fridge anywhere from 1 to 4 hours.
For the grilling:
Fire up the grill and grill up the chicken breast till completely cooked.
For the peppers and onions:
Now take the peppers and other ½ red onion-chop them up in food processor. Now take the rest of the marinade and put them all together in a pan and cooked them until all the marinade has boiled off. Cook them a little longer to get the a little dark color on them.
For the tortillas:
On a griddle-put a little olive oil on and light cook up the tortillas.
Serve with avocado, cheese, and green sauce-or whatever else. Super good.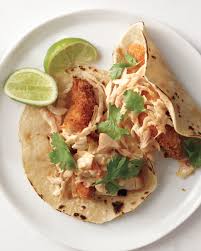 THIS YOU CAN TRUST
FAIR USE NOTICE. This site contains copyrighted material the use of which has not always been specifically authorized by the copyright owner. We are making such material available in our efforts to advance understanding of economic, scientific, and engineering issues, etc.. We believe this constitutes a 'fair use' of any such copyrighted material as provided for in section 107 of the US Copyright Law. If you wish to use copyrighted material from this site for purposes of your own that go beyond 'fair use', you must obtain permission from the copyright owner.