Recipe Of The Week-Carnitas
I love carnitas-it is one the best-it's not my favorite Mexican dish-but it is up there in my top five-(that sounds like a good post title actually). The key is getting the meat cooked right and the right marinade-with the best spices. This one I know you will like.
***************************************************************************
Ingredients1 1/2 pounds boneless pork shoulder (or 2 pounds bone-in)
1 teaspoon ground cumin
Salt and freshly ground black pepper
2 teaspoons dried oregano
1 onion, coarsely chopped
4 cloves garlic, minced
1 tablespoon olive oil
1 jalapeno, seeded and ribs removed, minced
1 orange, cut in half
3 tablespoons corn oilTake the pork out of the package, rinse and dry the pork shoulder. Mix the oregano and the cumin with olive oil and rub all over pork; then salt and pepper liberally. Put the pork in a crock pot and top with the onion, garlic, and jalapeno. Squeeze over the juice of the orange and add the two halves. Cover and cook on low for 8 to 10 hours or on high 4 hours whatever you have time for.
When the meat is tender, remove from crock pot and pull apart with a fork. In a large pan, heat the vegetable oil over high heat. Press the carnitas into the oil and fry until crusty on one side. Serve.
Enjoy.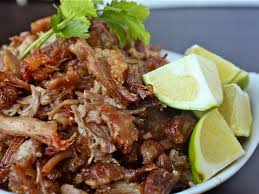 ******************************************************************************
THIS YOU CAN TRUST
FAIR USE NOTICE. This site contains copyrighted material the use of which has not always been specifically authorized by the copyright owner. We are making such material available in our efforts to advance understanding of economic, scientific, and engineering issues, etc.. We believe this constitutes a 'fair use' of any such copyrighted material as provided for in section 107 of the US Copyright Law. If you wish to use copyrighted material from this site for purposes of your own that go beyond 'fair use', you must obtain permission from the copyright owner.