Recipe of the week-BBQ Chicken
Going on with our summer theme, this week's recipe is delicious BBQ chicken-a personal favorite of mine, and the bodybuilding world.
I usually eat either boneless skinless chicken breast-or my favorite is chicken tenders. I have been known to eat boneless skinless thighs as well. Legs are pretty good-wings are alright-but there is definitely nothing like the taste of BBQ chicken on the grill.
Here is this week's recipe:
************************************************************
3 garlic cloves, minced
2 teaspoons butter
1 cup ketchup
1⁄4 cup packed brown sugar
1⁄4 cup chili sauce
2 tablespoons Worcestershire sauce
1⁄2-3⁄4 tablespoon celery seed
1 tablespoon prepared mustard
1⁄2 teaspoon salt
2 dashes hot pepper sauce
8 large chicken breast halves, bone-in with skin
Directions
In a saucepan, saute the garlic in butter until tender.
Add the next 8 ingredients.
Bring to a boil, stirring constantly.
Remove from the heat and set aside.
Grill the chicken, covered over medium heat for 30 minutes, turning occasionally.
Baste with sauce.
Grill 15 minutes longer or until juices run clear.
Continue basting and turning during the last 15 minutes of cooking.
***********************************************************************
There you have it-super awesome BBQ chicken and homemade sauce. Or try it with the BBQ sauce I gave you here: http://talklessliftmore.com/recipe-of-the-week-bbq-sauce/
Enjoy!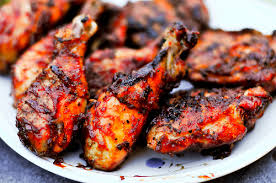 THIS YOU CAN TRUST
FAIR USE NOTICE. This site contains copyrighted material the use of which has not always been specifically authorized by the copyright owner. We are making such material available in our efforts to advance understanding of economic, scientific, and engineering issues, etc.. We believe this constitutes a 'fair use' of any such copyrighted material as provided for in section 107 of the US Copyright Law. If you wish to use copyrighted material from this site for purposes of your own that go beyond 'fair use', you must obtain permission from the copyright owner.