Recipe Of The Week-Banana Bread
I dig banana bread-it is an awesome tasty treat. I use rice flour to make mine-I just like rice flour-it cooks pretty good and has a nice flavor to the food. It does not have the elasticity effect like regular flour-but still it is pretty good all the same.
Anyway-here is the recipe-enjoy:
********************************************************************
Ingredients
2/3 cup sugar
1/3 cup butter, softened
2 eggs
1 1/2 cups mashed very ripe bananas (3 medium)
1 teaspoon vanilla
2 cups rice flour
1 teaspoon baking soda
1/2 teaspoon salt
Directions
Heat oven to 350°F. Grease bottom only of 9×5- or 8×4-inch loaf pan.
In large bowl, beat sugar and butter with electric mixer on medium speed until light. Add eggs; beat well. Stir in bananas, buttermilk and vanilla; blend well. Stir in flour, baking soda and salt just until moistened. Stir in walnuts. Pour into pan.
Bake 50 to 60 minutes or until toothpick inserted in center comes out clean. Cool 5 minutes in pan on cooling rack.
Loosen sides of loaf from pan; remove from pan, and place top side up on cooling rack. Cool completely, 1 to 2 hours, before slicing. Wrap tightly, and store at room temperature up to 4 days, or refrigerate.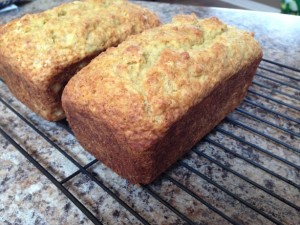 ********************************************************************
There you have it-eat and get hhhhhhhhhuuuuuuuugggggggeeee!!!!!!!!!!!!
THIS YOU CAN TRUST
FAIR USE NOTICE. This site contains copyrighted material the use of which has not always been specifically authorized by the copyright owner. We are making such material available in our efforts to advance understanding of economic, scientific, and engineering issues, etc.. We believe this constitutes a 'fair use' of any such copyrighted material as provided for in section 107 of the US Copyright Law. If you wish to use copyrighted material from this site for purposes of your own that go beyond 'fair use', you must obtain permission from the copyright owner.